Statement of Judging Ethics



Pictures of the Year International selects judges who maintain the highest journalistic and ethical standards. We have confidence that these same values will apply as jurors for POYi. We recognize that our profession is a close network and that the judges are also working journalists. So we carefully research and consider any potential conflicts and then counsel all the members about their obligations to be fair and impartial. Any judge with entries in a category must recuse themselves. The entire three weeks of judging is an open forum for anyone to quietly observe the process. POYi conducts the annual competition with complete transparency and integrity.


Week One Week Two Week Three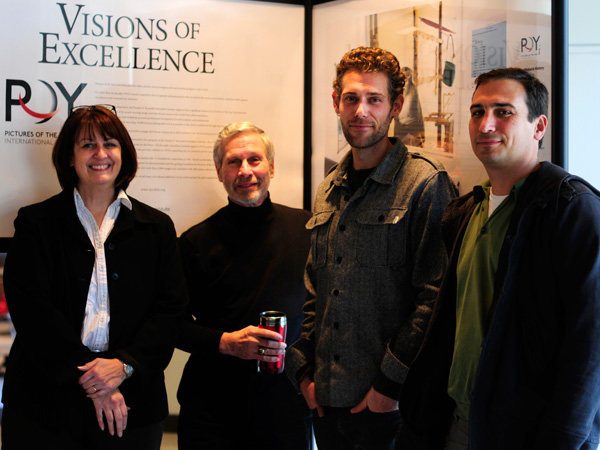 From Left to Right:

Meg Theno
Chicago Tribune
Meg Theno, senior photo editor at the Chicago Tribune, didn't intend to become a news photographer. When she began photographing rural beauty salons and dying river towns during her undergraduate years at Southern Illinois University in the 1970s, her goal was to become a documentary photographer — to make rich black & white archival documents that would hang in exhibitions or publish in monographs. Reality set in quickly after graduation, though, when she found herself photographing silo unloaders and manure spreaders in central Wisconsin to make a living. It was an unusual portfolio she carried when she applied a year later to be a part-time news photographer for the Aurora (Ill.) Beacon-News. Theno joined the Chicago Tribune in 2002 and became senior photo editor in 2005. She has edited photography for the metro, foreign/national, features, Sunday and web desks on award-winning projects such as child brides, prisoner exonerations, the worldwide cost of oil and the Iraq War. She has also been the principal online photo editor for special projects on the 2004 and 2008 Democratic and Republican National Conventions, homicides in Chicago, Hurricane Katrina, the Winter and Summer Olympics, the Obama presidency, the legacy of Agent Orange, the trial of former Illinois Gov. Rod Blagojevich and, most recently, attempted child abductions in Chicago. Theno has led the newsroom's multimedia group since 2007 and won the Tribune's Digital Journalism Award in 2008 for her work as a digital coordinator and liaison between the Tribune's web site and the photo department. She edits news photography and multimedia for chicagotribune.com and the Tribune's breaking news center and oversees production of video produced by the Chicago Tribune newsroom. She is also involved in the Tribune's community initiative to engage readers in local news through workshops, seminars and special events. Before joining the Tribune, Theno was the photo editor at the (Madison) Wisconsin State Journal where she coordinated the transition from film to digital photography and led a staff that won numerous state and national awards. Before moving to editing, Theno worked as a photojournalist for the State Journal, The Capital Times (also in Madison) and other publications. In between editorial assignments, Theno taught photojournalism at the University of Wisconsin-Madison and freelanced as a commercial photographer. Theno has a master's degree in journalism from Northern Illinois University, was twice president of the Wisconsin News Photographers Association and served as a member of the Wisconsin Freedom of Information Council.

Mike zerby
University of Minnesota
Mike Zerby is currently an adjunct faculty member at the University of Minnesota – Minneapolis in the School of Journalism and Mass Communication, teaching Visual Communication and Electronic Photojournalism. He has also taught at the University of St. Thomas, St. Paul, Minnesota and the University of Missouri, Columbia. Additionally, he was an associate director of the First International Photojournalism Workshop, sponsored by the University of Missouri and held in Sofia, Bulgaria, and associate director of the Second International Photojournalism Workshop, held in Budapest, Hungary, and faculty member for Somosfoto workshop in Quito, Ecuador sponsored by the University of Miami. Zerby is a 37-year veteran photojournalist. He came to the Minneapolis Star Tribune as a photography intern, working part- time while earning his degree in journalism at the University of Minnesota. After graduation, he joined the staff full-time. In addition to his work at the Star Tribune, Zerby has freelanced for the New York Times, Washington Post, and other papers. He has also done assignments for National Geographic, Time, Newsweek, Business Week, Forbes and Geoworld among other publications. His assignments were many and varied, and included being embedded with invading Marines during the recent Iraq war, where he shot stills and video for his paper. CNN also aired some of his video. Zerby covered all the US presidents but one, from Richard Nixon to George W. Bush. In addition, Zerby documented the launch of two space shuttles, traveled to Alaska three times for the installation of the oil pipeline, tracked a dogsled expedition to the North Pole at 72 degrees below zero and followed Gov. Jesse Ventura to Japan. Zerby witnessed the continuing struggle for human rights in the Lakota Sioux villages of South Dakota, documented racial strife in the cities and townships of South Africa, observed the quiet lives of a rural Hutterite community in South Dakota and reported in-depth on a crack-ridden Minneapolis inner-city neighborhood. Zerby lives in Fridley, Minnesota with the love of his life, his wife, Judy. They have three children, Scott and Chris Zerby, Laura Charles, and six grandchildren.

Drea Cooper
Filmmaker
Drea Cooper is a filmmaker and commercial director bas­ed in San Francisco. He has worked around the world including India, Kosovo, Colombia, Taiwan, Europe and the US directing and shooting documentaries and films for brands. He has worked with a variety of clients and networks including Apple, Google, Nokia, adidas, Ray-Ban, Toyota, MTV, A&E, and PBS. In 1999, after studying philosophy at the University of California at Santa Cruz, Cooper started and managed an urban youth media-arts program at a continuation high school in Hunters Point. He later went on to earn an MFA in Cinema from San Francisco State University. In 2007, Cooper spent the year making the award-winning documentary film, Reborn New Orleans Schools, which charts the course of the educational reform movement in post-Katrina New Orleans. The following year, Cooper completed production on a twelve-part film series for Nokia and the Pearson Foundation about educational reform, reinvention, and 21st century ingenuity. And later this year, PBS will broadcast his new one hour film, Digital Media: New Learners of the 21st Century, which documents five success stories both inside and out of the classroom and demonstrates how digital media, games, smart phones and the Internet are fundamentally transforming the way young people communicate, collaborate, and participate in this new era of learning. Cooper's latest project, California is a place, is an ongoing documentary web series about curious subjects and interesting people from the golden state. The films have drawn the attention of over 2.5 million viewers online, including the PBS News Hour, The Atlantic, The New York Times, The Los Angeles Times, and the Nieman Foundation for Journalism at Harvard. The series was recently invited to the Sundance Film Festival as part of the New Frontiers section. And last fall, the series was nominated for the IDFA DocLab Award for Digital Storytelling.

Kim Grinfeder
University of Miami
Kim Grinfeder is an assistant professor in the Visual Journalism program at the University of Miami School of Communication. He joined the faculty in 2003 and holds a master's degree in Interactive Telecommunications from New York University and a bachelor of arts in History from the University of Miami. His research interests include interaction design and multimedia storytelling. His professional background includes positions in design, programming, and new media consulting. His awards include NPPA Best of Photojournalism (best of the web & 1st and 2nd place best multimedia package - 2006), Flash in the Can (2006), Pictures of the Year International (2006), the Association for Education in Journalism and Mass Communication Best of Web Award (2004, 2005, 2006, 2007, 2008), he has received three honorable mentions in the Knight Batten Awards (2006, 2008), a Gold Award Winner in the Horizon Interactive Awards, was nominated for a Webby Award and was a finalist at the Flash Forward Film Festival. His students have also won numerous awards for their projects under his guidance, including two Society of Professional Journalists National Mark of Excellence Awards and a Webby Award Nomination.
JUDGING PANEL MODERATOR


Rick Shaw
Pictures of the Year International - Director
Rick Shaw is director of Pictures of the Year International (POYi), an international photojournalism program affiliated with the Missouri School of Journalism and the Donald W. Reynolds Journalism Institute. Shaw joined the journalism school in 2004 as an assistant professor in the photojournalism sequence, and director of photography for The Missourian, the student-produced daily city newspaper. Shaw's prior newspaper career spans 27 years in visual editing and management. He began as a photojournalist and moved into picture editing, working at a variety of newspapers including The Florida Times-Union in Jacksonville and then The Sacramento Bee for 12 years. At The Bee, he served in a variety of positions including photo editor, assistant director of photography, and later as an assistant news editor. Rick then became the director of photography and graphics at The Arizona Republic in Phoenix, and in 2001 joined the Hartford Courant as their director of design and graphics. He has been recognized with several design and picture editing awards, including Picture Editor of the Year honors in POYi and NPPA competitions. The Sacramento Bee and Hartford Courant both have received the Angus McDougall Overall Excellence in Editing Award. At The Missourian, he directed the student photo editing staff to two consecutive POYi photo editing portfolio awards, competing against professional newspapers nationwide — a third place editing portfolio during the 64th annual competition in 2007, and an Award of Excellence editing portfolio during the 63rd annual competition in 2006. Rick's current master's research thesis relates to online visual journalism, and examines the effects of new organizations' visual personalities with regards to audience perceptions of credibility.