Statement of Judging Ethics



Pictures of the Year International selects judges who maintain the highest journalistic and ethical standards. We have confidence that these same values will apply as jurors for POYi. We recognize that our profession is a close network and that the judges are also working journalists. So we carefully research and consider any potential conflicts and then counsel all the members about their obligations to be fair and impartial. Any judge with entries in a category must recuse themselves. The entire three weeks of judging is an open forum for anyone to quietly observe the process. POYi conducts the annual competition with complete transparency and integrity.


Week One Week Two Week Three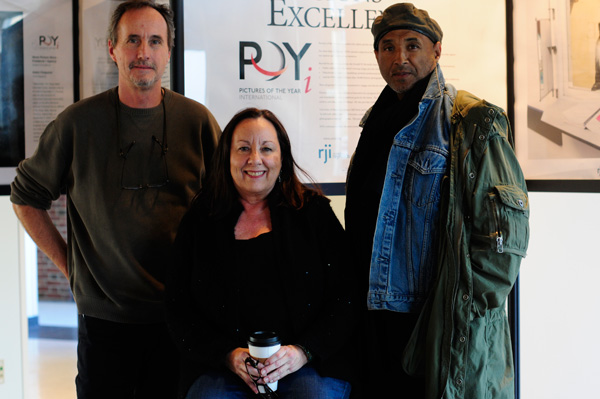 From Left to Right:

Bill Marr
National Geographic
Bill Marr is Creative Director for National Geographic magazine. His career reflects a dedication to photography and its presentation in newspapers, books and magazines. He was named College Photographer of the Year in 1976, but soon felt more at home with editing and page design. While pretending to attend journalism school at the University of Missouri, Marr worked at the Columbia (MO) Tribune where he was named Newspaper Picture editor of the Year in 1979 and the newspaper was twice recognized for Best Use of Photography. The newspaper was also honored by SND with a gold medal for design. Marr was art director at the Philadelphia Inquirer Magazine in the early 80s where he was recognized twice by POYi as Newspaper Magazine Picture Editor of the Year. He began a commercial design and photography studio with photographer Nick Kelsh that specialized in the use of editorial and creative photography in corporate applications. Later, after six years on the staff of National Geographic as a layout editor, he began another freelance company in 1998 with his wife, photographer Sarah Leen, designing and packaging more than 40 illustrated books. Marr rejoined the National Geographic staff in 2005 as executive editor. National Geographic has been recognized with the National Magazine Award for General Excellence—its highest honor—three times in the past four years.
Mona reeder
The Dallas Morning News
Photojournalist Mona Reeder joined The Dallas Morning News in 1999. She has covered the war in Iraq, Hurricane Katrina, presidential elections in the U.S. and Mexico, immigration issues, and traveled to southeastern Turkey to document the Kurdish situation for "Hidden Wars," a team project. She is known for her social documentary work. In 2002, Reeder was sent to Afghanistan to chronicle the war on terrorism and its effect on the Afghan people. She received numerous awards for her body of work there including World Press Photo and Pictures of the Year International. Reeder's work was awarded the prestigious Visa D'Or Daily Press Award 2008 in Perpignan, France, the Robert F. Kennedy Journalism Award, and she was a 2008 Pulitzer Prize finalist in Feature Photography for The Bottom Line. The documentary project, which depicts the economic disparities in Texas created by public policy, also won numerous awards in Pictures of the Year International, Best of Photojournalism, the Casey Medal for Meritorious Journalism, SPJ's Sigma Delta Chi Award for Feature Photography, the Harry Chapin Media Awards, and the Community Service Photojournalism Award from ASNE. For more than two decades she has received international recognition, including an earlier RFK Award of Excellence for her documentary work on the diabetes epidemic of Native Americans in Southern Arizona. She was a POYi finalist for Photographer of the Year in 2003, a finalist in 2003 for the Alexia Foundation documentary photojournalism grant, and was named Arizona Press Photographer of the Year in 1998. She graduated from California State University, Sacramento and previously worked at newspapers in California, Ohio, and Arizona. Her work has appeared in numerous galleries, and The Bottom Line project was part of Fovea Exhibitions' Dispatches From The Frontlines: 12 Women Photojournalists. In addition to shooting full time, Reeder is also pursuing an MFA in documentary film.

Stanley Greene
NOOR Images
Stanley Greene was born in New York in 1949. As a teenager, he was a member of the Black Panthers and an anti-Vietnam War activist. Greene began his art career as a painter but started taking photos as a means of cataloging material for his paintings. He was a founding member of SF Camerawork, an exhibition space for avant-garde photography. He studied at the School of Visual Arts in New York, and at the Image Works in Cambridge, Massachusetts. An encounter with W. Eugene Smith turned his energies to photojournalism. Started working at News day in 1985 before that he photographed various rock bands. In 1986, he shot fashion in Paris. He called himself a "dilettante, sitting in cafes, taking pictures of girls and doing heroin". After a friend died of AIDS, he kicked his drug habit and began to seriously pursue a photography career. He began photojournalism in 1989, when his image "Kisses to All, Berlin Wall" became a symbol of the fall of the Berlin Wall. In October 1993, he was trapped and almost killed in the White House in Moscow during a coup attempt against President Boris Yeltsin. He has covered the war-torn countries Nagorno-Karabakh, Iraq, Somalia, Croatia, Kashmir, and Lebanon. He has taken pictures of the genocide in Rwanda in 1994 and the US Gulf Coast in the aftermath of Hurricane Katrina in 2005. Since 1994, he is best known for his documentation of the conflict in Chechnya, which was compiled in his 2004 book, Open Wound. These photos have drawn attention to the "suffering that has marked the latest surge in Chechnya's centuries-long struggle for independence from Russia". In 2008, he revealed that he had hepatitis C, which he believed he had contracted from a contaminated razor while working in Chad in 2007. After controlling the disease with medication, he traveled to Afghanistan and shot a story about "the crisis of drug abuse and infectious disease". He has won five World Press Photo awards for his work around the world. His work has been published in Libération, New York Times Magazine, Newsweek, Rolling Stone, Paris-Match, Time, Stern and Fortune, among others. He won the Alicia Patterson and the prestigious W. Eugene Smith Award in 2004. He was awarded a Katrina Media Fellowship from the Open Society Institute in 2006. His book Black passport was published in 2010 and released by Aperture. He continues to cover important world events.
JUDGING PANEL MODERATOR


Rick Shaw
Pictures of the Year International - Director
Rick Shaw is director of Pictures of the Year International (POYi), an international photojournalism program affiliated with the Missouri School of Journalism and the Donald W. Reynolds Journalism Institute. Shaw joined the journalism school in 2004 as an assistant professor in the photojournalism sequence, and director of photography for The Missourian, the student-produced daily city newspaper. Shaw's prior newspaper career spans 27 years in visual editing and management. He began as a photojournalist and moved into picture editing, working at a variety of newspapers including The Florida Times-Union in Jacksonville and then The Sacramento Bee for 12 years. At The Bee, he served in a variety of positions including photo editor, assistant director of photography, and later as an assistant news editor. Rick then became the director of photography and graphics at The Arizona Republic in Phoenix, and in 2001 joined the Hartford Courant as their director of design and graphics. He has been recognized with several design and picture editing awards, including Picture Editor of the Year honors in POYi and NPPA competitions. The Sacramento Bee and Hartford Courant both have received the Angus McDougall Overall Excellence in Editing Award. At The Missourian, he directed the student photo editing staff to two consecutive POYi photo editing portfolio awards, competing against professional newspapers nationwide — a third place editing portfolio during the 64th annual competition in 2007, and an Award of Excellence editing portfolio during the 63rd annual competition in 2006. Rick's current master's research thesis relates to online visual journalism, and examines the effects of new organizations' visual personalities with regards to audience perceptions of credibility.