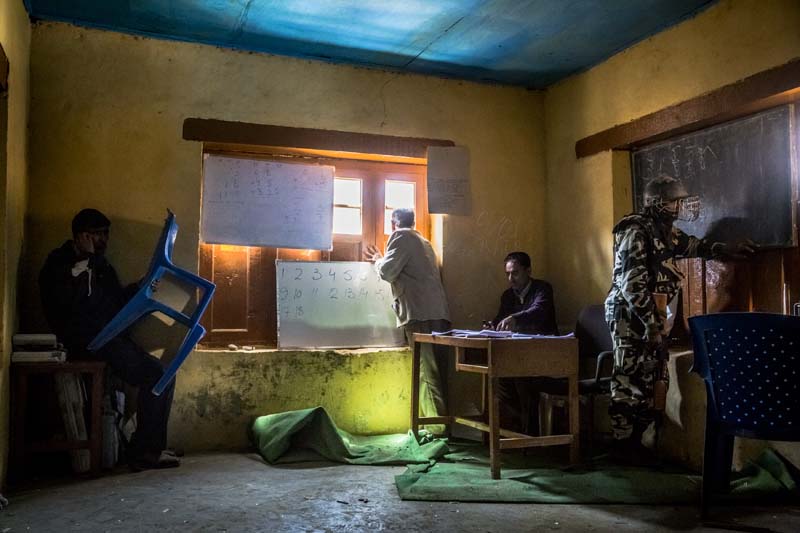 First Place
Daniel Berehulak
Getty Images Reportage for The New York Times



1 2 3 4 5 6 7 8 9 10 11 12 13 14 15 16 17 18 19 20 21 22 23 24 25 26 27 28 29 30 31 32 33 34 35 36 37 38 39 40 41 42 43 44 45 46 47 48 49 50

ARIHAL, PULWAMA DISTRICT, KASHMIR, INDIA - APRIL 18, 2014: An Election official takes cover behind a plastic chair, protecting a voting machine, after Kashmiri protesters hurled rocks, breaking windows and disrupting voting at a polling station during the sixth phase of voting of the Indian parliamentary elections at Arihal, some 50 Kilometers (31 miles) south of Srinagar, India, Thursday, April 24, 2014. Hundreds of Kashmiri protesters hurled rocks at polling stations in the disputed Himalayan territory Thursday and shouted "Down with India!" on a major day of voting in the country's general election. Indian forces used tear gas and wooden batons to disperse the protesters, but there was no disruption in the voting, a police officer in the area said. Narendra Modi, leader of the Bharatiya Janata Party, won a landslide victory in India's 2014 general elections, which took place between April 7 and May 12. With over 550 million votes cast, it was the largest election in history. It was the first time since 1984 that a party has won enough seats to govern without the support of other parties. Modi, the former governor of Gujarat State, led his party to defeat the Indian National Congress party, which has led the central government for a total of 49 years since the country's 1947 Independence. In the run up to the election, with India's economy faltering and the government plagued by corruption scandals, BJP were able to position itself as the party of the urban middle class, an increasing constituency as more Indians move from the countryside to cities and those cities, in turn, become more prosperous.