Award of Excellence
Travis Dove Ohio University
"Skate Rats"
1 of 12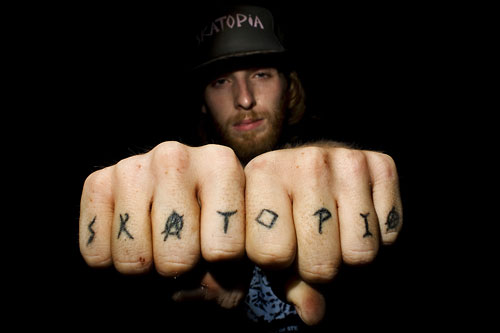 Less than 500 people live in the town of Rutland, OH, but hundreds more migrate in and out of its borders every year to visit one 88-acre farm called Skatopia. Skatopia was designed to be a haven for skateboarders whose general trend toward antiestablishment behavior made it difficult to integrate the sport with mainstream society. In effect, Skatopia has become more than just a large-scale skateboarding venue, it is a sanctuary for the culture that surrounds and defines the sport. Although "88 acres of anarchy" is a skate park slogan, it functions more like a cooperative dictatorship, according to farm owner, Brewce Martin. The gates are open all of the time as people frequently filter in and out at their own will. Some camp out for a weekend, others build cabins from scraps and stay for a year; just about everyone seizes the opportunity to renounce conventionality.
"Tattooed" Brandon Martin pauses for a picture of the Skatopia tattoo on his fingers. Brandon is the son of Brewce Martin, the owner and founder of Skatopia, and he has grown up on the farm.