Category: Online Storytelling Project of the Year
Noelle Crombie, Kale Williams, Beth Nakamura, Dave Killen, Margaret Haberman, Mark Friesen and Teresa Mahoney / The Oregonian/OregonLive
"No Mercy"
Jessica Koscielniak / Fort Worth Star-Telegram and McClatchy Studios
"Titletown, TX: All We Got"
Craig Whitlock, Julie Vitkovskaya and Nick Kirkpatrick / The Washington Post
"The Afghanistan Papers: A secret history of the war"
Ilvy Njiokiktjien / Freelance
"Born Free: Living with the legacy of inequality"
Alex Kotlowitz, Maggie Bowman, Stacy Robinson, Carroll Bogert, Gordon Quinn, Betsy Steinberg, Risé Sanders-Weir, Illinois Humanities, Kim Bellware, Brendan Brown, Ingrid Roettgen, Melissa Sterne, Kathleen Chee, Matt Taylor, Seth Bomse, Oral Berat User, Scott Morgan, Edwin Diaz, Brendan Hubbard, Martin Stebbing, Resita Cox, Alexandra Epstein, Mago Torres, Pat Nabong, McKinleigh Lair, Mitch Dietz, Ingrid Roettgen, Edwin Perez Osuna, Sara Kragnessi, Matt Taylor, Drew Weir, Peter Jaszi, Robert Labate, Ruth Baldwin, Jenny Carchman, Tatiana Craine, Alex Tatusian, Katie Park and Gabriel Isman / The Marshall Project
"We Are Witnesses: Chicago"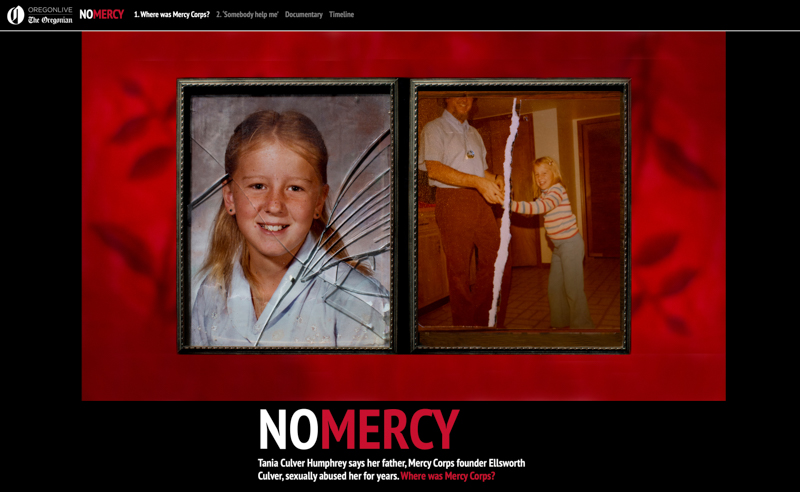 Winner
"No Mercy"
Tania Culver Humphrey grew up with a renowned father and a terrible secret. While Ellsworth Culver was building Oregon-based Mercy Corps into an international force for good, he sexually abused his daughter for more than a decade, beginning when she was in preschool.
Humphrey eventually told the acclaimed humanitarian relief organization, providing graphic details of her experience and supporting documentation. But her word wasn't enough. Mercy Corps allowed her father to continue to travel the globe as the charity's public face.
Now 48 and a mother herself, Humphrey wants Mercy Corps to answer the question that's haunted her for years: Why didn't they stop him?